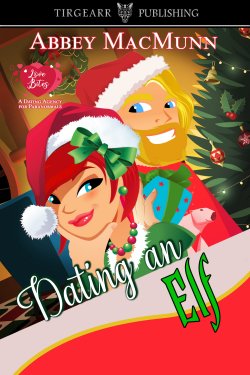 DATING AN ELF
Love Bites Series, #6
Abbey MacMunn

Just $1.49 through Sunday 14 November!

Paige Alston wants it all: love, marriage, more kids, and a happily ever after. Trouble is, her biological clock is ticking, she's a single mum to twins, and she has a temper that flies faster than Santa's reindeer on Christmas Eve. It's going to take someone pretty special, and brave enough, to take her on.

Enter naked polar bear shifter, Ben.

After his fiancée cheated on him, Esben (Ben) Johansen swore off women for good. Until a sassy, curvy elf catches him shifting in Santa's grotto that is.

With a friend intent on driving a wedge between them, and a series of unfortunate events, is Fate trying to force them apart, or guide them towards their destiny?
Check out the rest of the Love Bites series: