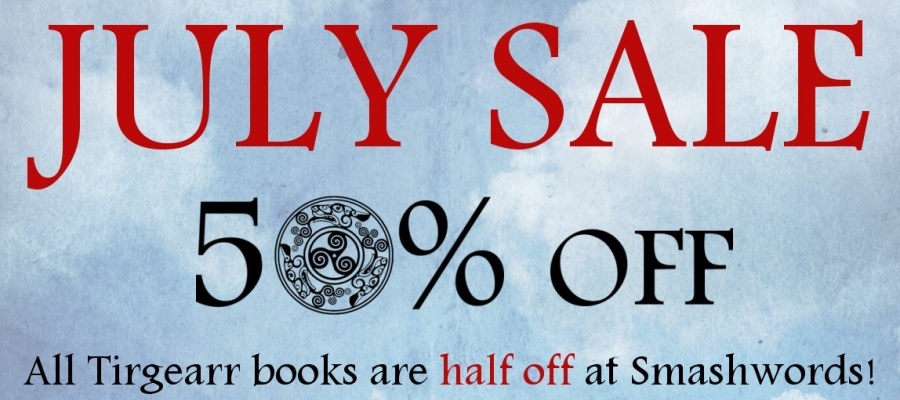 ANNUAL JULY SALE
Most books are 50% off at Smashwords
(99c and free books priced as is)
Visit our authors or books pages and click on the Smashwords link to order.
Books are automatically repriced at 50% off.
Doublecheck at check out and enter SSW50 to receive half off your order.
Or visit our page on Smashwords and select the books you want to read.
Thank you for supporting Tirgearr Publishing and our authors.
Don't forget your reviews!
Let out team know how they're doing through your comments on their books.
---
AVAILABLE NOW

CALL OF THE MORRIGÚ
Christy Nicholas

Life isn't easy in 1798 Ireland. Rebellions are rising across the countryside, and the English can be cruel overlords. However, this brutality hasn't reached the country estate of Strokestown.

Theodosia Latimer and her grandfather Reginald are on a mission to discover the past. They're determined to excavate some ancient mounds on the Strokestown estate. But when they discover an imprisoned goddess straight out of Ireland's rich mythological history, they're both amazed and frightened.

Tasked with integrating this primeval warrior woman into polite society, they develop both respect and fear for the powerful goddess. Will they be able to tame her lust for violence in the upcoming rebellion? Or will they fall victim to it?
WATCH THIS SPACE FOR WHAT'S COMING SOON IN 2017

9 August


16 August


23 August

30 August

6 September

13 September
Turlough's Tale
Christy Nicholas
---
Are you a Tirgearryen?




Join the House of Tirgearryen Get your official T-Shirt here

JUST DESSERTS
compiled by the team at
Tirgearr Publishing

Great all-season recipes for every occasion

Delicious and Easy-to-Make

FREE at most vendors!

House of Tirgearryen garments are proudly produced by:


HOME • AUTHORS • BOOKS • SUBMISSIONS • NEWSLETTER • TIRGEARR









• Copyright © Tirgearr Publishing - All Rights Reserved •